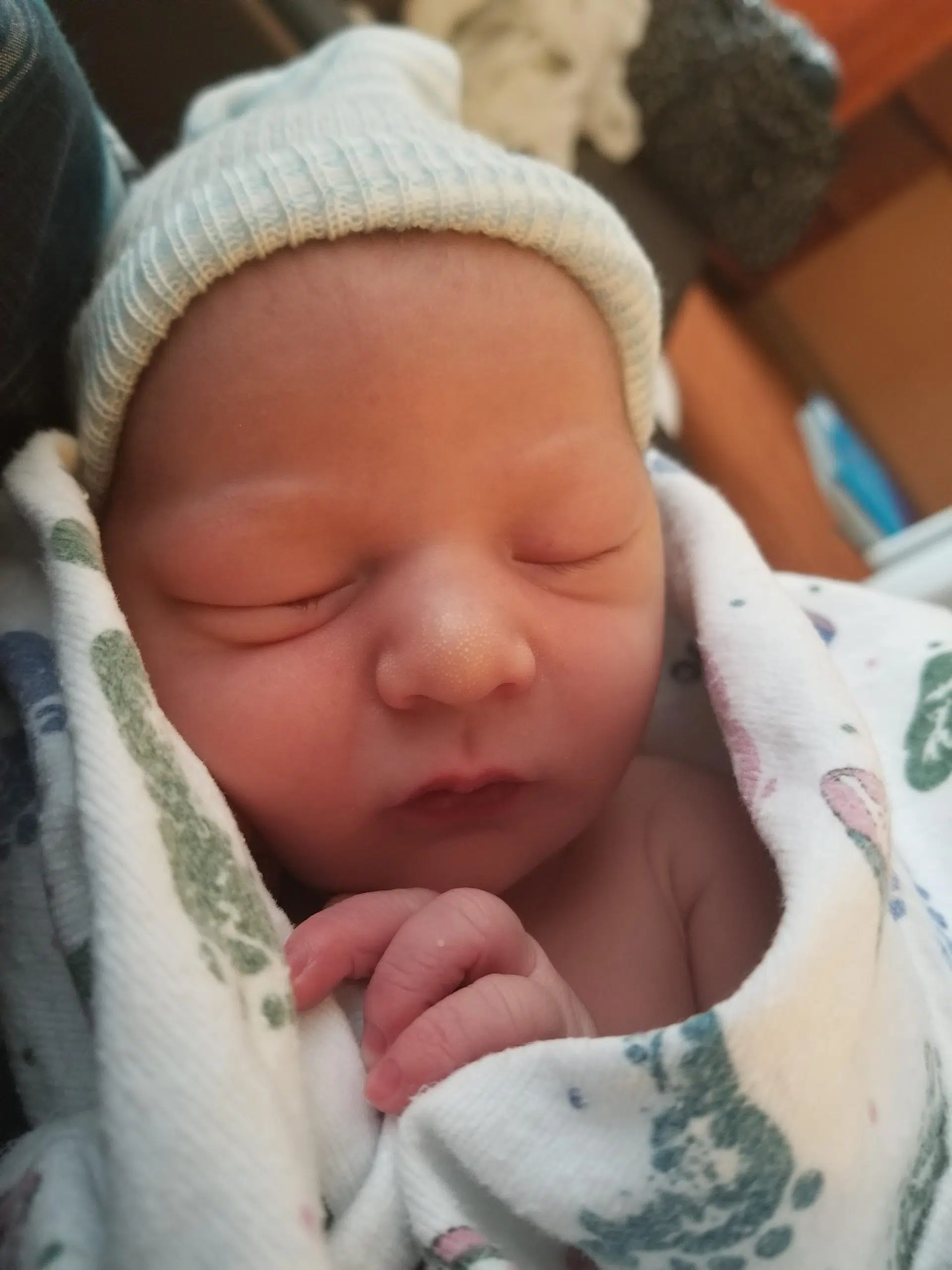 I have heard that babies are miracles.  I heard that from everyone when my daughters were born. Yes miracles they are, it's a miracle that they are so sweet considering their dad, it's a miracle that my eyes don't pop out of my head considering how frustrating they can be, but mostly it is a miracle that my heart doesn't burst from loving them so much. These are all miracles of the Hallmark variety and I was expecting to tell this story filled with those same type of miracles. This story, I believe, was an actual miracle.
As you know we have been on #GreenwoodBabyWatch2018 for about three weeks. My wife, Jenni, would have contractions we would time them… nothing. We would rush to the hospital….nothing. So finally his eviction date came. We were going to be induced. Which to be honest takes some of the thrill out of it. This wasn't like old sitcoms where the dad would freak out, pack the car and peel out to the hospital only to forget the mom.  Everyone laughs.  I was at least hoping to get to drive ultra fast on the way and if we got pulled over I get to scream "she's having a baby!" And get a police escort to the hospital. No this was anticlimactic or so I thought.
We have our appointment 8pm. I kiss my girls good night and tell them I'll see them in the morning with their brother. Everyone's excited and off we go to the hospital. Everyone is excited except Jenni. Jenni is a Nurse Practitioner that has seen and knows too much.  She was uneasy about being induced. We get to the hospital, get checked in, I.D. bands, fill out paperwork longer than a CVS receipt. And the start the inducing drug. Everything is going fine…until it wasn't
The nurse and the resident seemed to come in and check the little monitors a lot…like a lot. Then they wanted to check something and move something then they were convinced that something was making the babies heart rate drop dangerously low.  Jenni had to lay a certain way, a way that of course was ridiculously uncomfortable for her.  But after that everything was fine so they increase the flow of pitocin (I am certain that I am not spelling it right but hey I am trying here). I am trying to keep Jenni entertained and her mind off things by watching one of our favorite shows on our tablet. I cant lie I was drifting off a bit as the wait was boring.  8pm, 9pm, 10pm came and went still nothing…I am dozing off until I hear the door burst open. In a flash the room was filled with people in scrubs saying words that I am sure are English but it may as well been a foreign language to me. They flip Jenni on her side, someone is putting an oxygen mask on her and they are pressing on her stomach, looking and poking and then a phrase comes up that I recognize "chance of emergency c-section".  All of a sudden I am not tired anymore.
The fantastic nursing staff got everything stabilized and again Jenni…do….not…..move. The drugs stopped again. Everything is good. They start the inducing drug again.  Oh my, I am watching the monitors like I have an idea what any of it means. I was watching numbers bounce drawing correlations and conclusions. I felt helpless. A few hours go by of nurses and residents coming in and re-positioning Jenni. Turning the pitocin off and on and finally they say we're going to break your water.  Okay go time, all that is over we'll be able to take the girls to school….I have never been more wrong.
At first the delivery part seemed fine. The doctors and nurses were all chatting in the room everyone was smiling and laughing in between PUSH! PUSH! PUSH! Epidurals must be great! PUSH! Finally we see the top of his head. PUSH! PUSH! Still just the top of his head. Keep going keep pushing, minutes pass, still laughing still smiles Okay big PUSH! PUSH! The smiles are gone, the laughter is replaced by uncomfortable silence.
"Okay one more big push"… that is the last thing I remember before the doctor started yelling, I was pushed aside a swarm of blue scrubs in the room. I didn't count but it was easily 15 people in the room. One nurse flung herself on top of Jenni and is pushing on her belly another nurse is pulling things. Still all I see is just the top of his head.
My memory is fuzzy here, but this picture is burned into my brain.
This image is burnt into my brain…he was out but blue and limp. Not a little blue. He was as blue as a smurf and even worse he was silent. My face must have telegraphed what I was seeing to Jenni. She looked at me and tears streamed down her face. "Go with him" she mouthed as she squeezed my hand. He hadn't gone far. They had a table warmer thing right at the foot of the bed. I couldn't see him at all. Of course my mind is playing the worst possible scenarios. Everything is in slow motion, the people crowded around the baby, Jenni trying to see what is going on, I look back and see both my mother in law and my mom eyes closed, hands folded furiously sending up prayers. I would love to say that I know just what to say or to do to make everything better, but I froze. Its weird how in those moments your priorities change. I absolutely love my job and I have goals and dreams, things I want to achieve. But in that moment none of it mattered. The job, the car, the money, it didn't matter…just let him breathe. Just breathe. Just breathe. Please God let him breathe. The only thing in the moment that mattered is him taking his first breath.
The room was deadly silent until a small but powerful cry rips through the room. He was crying! The room erupts with a collective sigh of relief. The crying was one of the greatest sounds I have ever heard. The army of doctors, specialists, and nurses are all in tears. They turn to me, "do you want to cut the umbilical cord?" I clumsily reach out for the scissors. I was so weak and shaken that they seemed to weigh a thousand pounds. I cut the cord as he made his way up to meet mommy. No longer blue, no longer limp, it was as if the previous ten minutes never happened. The doctors take him to check him out. They are looking at his shoulders, his hips looking for some evidence or effects of what just happened. He is fine. The doctor said he was better than fine he was perfect. I don't know about perfect but I do know that I saw a miracle. A miracle the we named after his Grandfathers, Parker Jaxson Neal Greenwood.  You're a miracle kid and it's going to be a miracle if your mom and sisters let you out of their sight for even a minute.  It will be a miracle if the grandmas don't spoil him every day.  It will be a miracle if I can ever tell this story without crying.